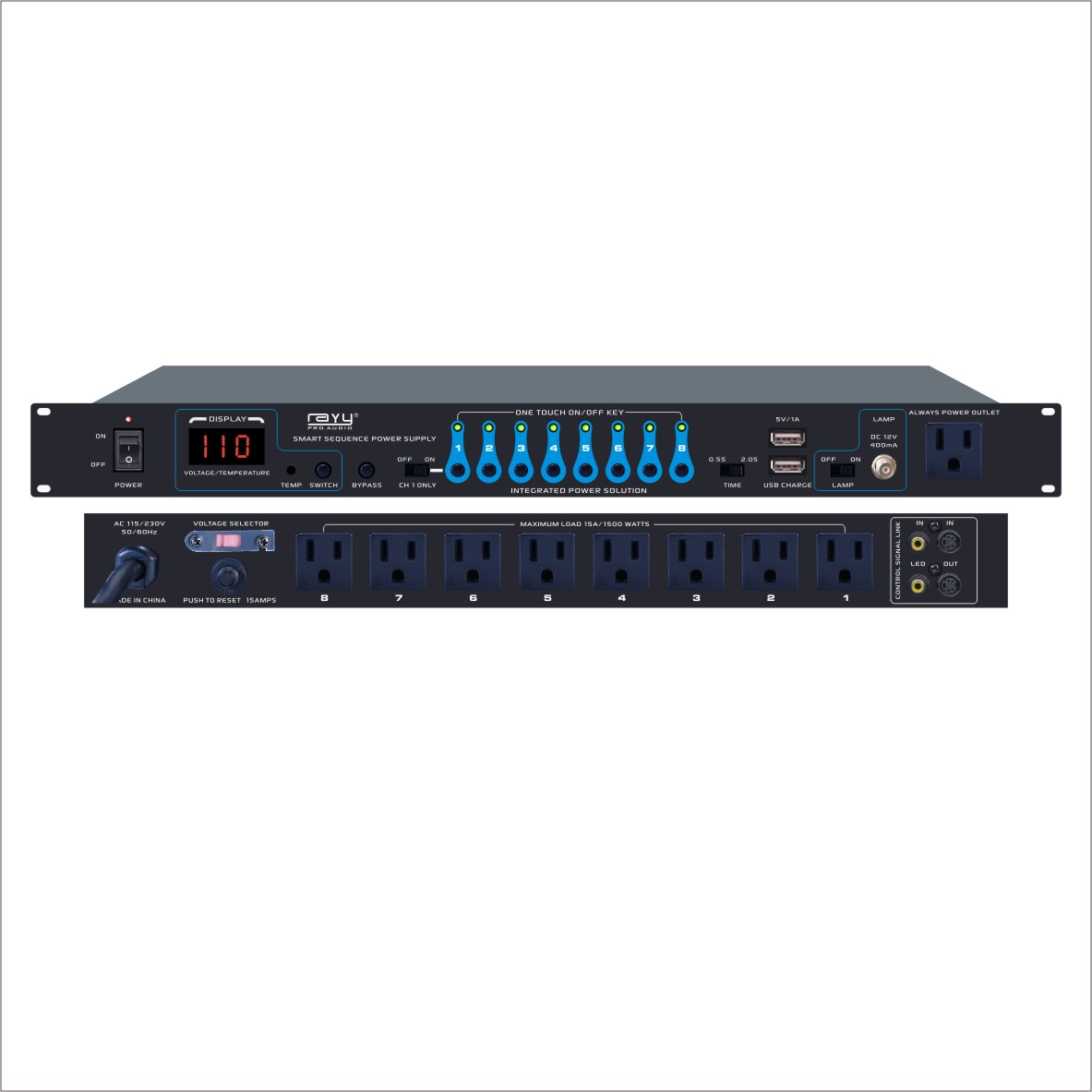 [PCS18A]
Update...

AUDIO PROCESSOR POWER SEQUENCER WITH 9 OUTPUTS
Features:
With 9 channel outputs, use 15A relays each channel, have long-time and steady
operation. It can turn on or off all the audio equipment orderly to avoid impact for the
system. With power filter to reduce the power distortion. Have voltage indicator or meter
for easy to know the voltage.
*Supplies Clean Filtered AC Power with Two-Stage High Insert Dissipation
*High Performance Micro-Controller Unit Ensures High Level Precise Timing
*Built-in Two Stage EMI Filter for Each Output (On Rear Panel)
*AC Voltage, Ambient Temperature and Step Time Display
*Able to Series Link More than 100 Units with Automatic Master Unit Display
*Selectable Step Time and Real Time Display
*Output Cut Switch for All Nine Channels
*Monitors AC Voltage in Real Time
*Display Shows Wiring and Ground Status
*LED Displays: Output Cut, Master, Bypass, Power, AC Voltage and
Temperature:
*Step Time Display in 7 Segment LED
*Sequence Switch LED
*Monitors Ambient Temperature in Real Time
*One Constant Power Jack Output Un-switched on Front Panel
*8 Channel Output with American Standard
*Power Jacks on Rear Panel
*Link Connector: S-Video 4 Pins
*Other Outputs: Two AC 12Volt-4 Amp, One
*DC 24V-1.5 Amp
*Output Current: Max 10Amp AC
*Output Voltage: Max 275 Volt AC
*Output Power: 2200W
*Sequence Switch Time: 2 seconds